Humanitarian crises: Congo worst

Eastern Congo is suffering the world's worst current humanitarian crisis, with a death toll outstripping that in Sudan's strife-torn Darfur region, according to a top UN official.
My dear mother, God bless her soul, sent me these pictures (at the end of this post) from the war in Congo, with this very short subtitle: "No comments"
I agree with her. These photos should generate no comment at all... just action! I am literally SICK and TIRED of seeing this being ignored, while lesser damaging conflicts are looked at - and often worsened - for the selfish and self-centered interests of some Western powers. Don't get me wrong. I will always support our Arab brothers in their struggle for freedom and self-determination; I will also always support the right for the young generation of Israelis and Palestinians, to live in Israel, in peace, freedom, justice, safety and democracy, side by side with a peaceful, free, just, safe and democratic Palestine.
That said, the amount of attention that Western powers focus on the Middle East, is making the entire International community commit a derelection of duty, in the matters of Africa. The amount of actions and negotiations that are needed to end the conflicts in Africa, and particularly in Congo are - if not simple - very straight-forward. The conflict in the Democratic Republic of the Congo is potentially 10 times deadlier than any attack Ben Laden and Al-Qaida, could put together - if you consider the possible spread of such diseases as Ebola, Monkey Pox, and recently the Plague; this is without even taking into account the regulars like Malaria, Cholera and Yellow Fever. The World cannot afford, tolerate, or pretend to ignore the combination of desperation and inhumanity that cause the mess in the Great Lakes, and cannot continue to great as partners the architects of that mess - namely Pres. KAGAME of Rwanda, and to a lesser extent Pres. MUSEVENI of Uganda. If the United States is truly hellbent on imposing Democracy and human rights on this planet, Iraq is not the neediest place, nor Afghanistan, but Somalia, Sudan, and the Great Lakes.
I am SICK AND TIRED AND OUTRAGED to see me and my people, and black people all over the planet in general, being treated like second class people when we are the source of humanity; like useless people when our blood and our sweat and our arms and our mineral resources literally built the USA and Europe into what they are; like hopeless causes when much of our situation today is the result of centuries of racism and degradation, and the cruelty and carelessness of colinial policies. I am OUTRAGED that 3.5 millions (that's 3.500.000) HUMANS have died in 7 years in Congo, and most people in the West couldn't care less, because they are little niggers. I treat every human being - black, white, yellow, green, blue - exactly the same, because despite having suffered colonialism, my parents took an extra care in inculcating in my head that "ALL (WO)MEN ARE CREATED EQUAL"... Ring a bell anyone? Well if its true - as I believe it is - explain to me How the World has been able to shamelessly turn a blind eye to
THIS: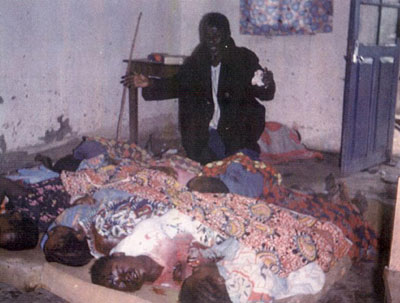 LE

Also see Pictures from the Ituri District, in Eastern Congo
I wonder...